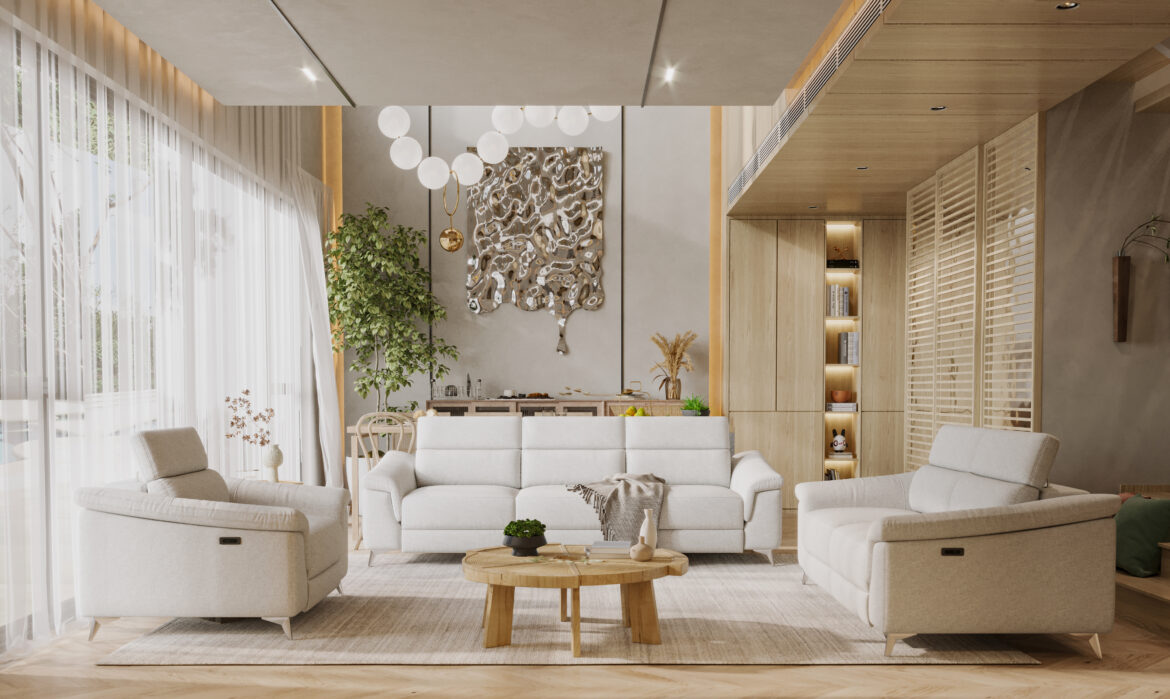 Beyond the Living Room: Innovative Ways to Use Modular Sofas in Your Home
July 3, 2023
0 Comment(s)
In the realm of furniture design, the versatility of sectional or modular sofas is unparalleled. Their adaptable nature, coupled with style and comfort, provides boundless opportunities for creative home decor. Often, these elegant pieces are confined to the living room. However, the capabilities of modular sofas extend far beyond this traditional setting. In this article, we explore the innovative ways you can incorporate Hybreeze's sectional sofas into various spaces within your home.
Transfigure Your Home Office
With a rising trend of remote working and flexible work hours, home offices have become an essential part of many households. Hybreeze's modular sofas can redefine your work-from-home experience. Replace the conventional office chair with a plush, comfortable modular sofa to create a serene workspace. It also adds an inviting element for those times when your office space doubles as a meeting place.
Amplify Your Entertainment Space
Modular sofas are a fantastic addition to any home theatre or game room. Their spacious and flexible seating allows for a cozy family movie night or an exciting game session with friends. Hybreeze's sectional sofas can be arranged to ensure everyone has a clear view of the screen, providing the utmost comfort during long viewing sessions.
Create a Restful Reading Nook
A cozy reading nook can be the perfect refuge for book lovers. A corner of your house can be transformed into a tranquil space by adding one of Hybreeze's smaller modular sofas. Throw in a soft blanket, a couple of throw pillows, and a small side table to hold your favorite cup of tea for a serene reading experience.
Upgrade Your Outdoor Living Space
With weather-resistant and robust materials, certain Hybreeze modular sofas are ideal for upgrading your patio or outdoor living space. A comfortable outdoor sectional sofa can make your garden or balcony more inviting, promoting more time spent outdoors, be it for a peaceful morning coffee or a lively evening gathering.
A Peaceful Slumber with Modular Sofas
A modular sofa can also be utilized in a guest room or even a master bedroom. With their ability to be reconfigured, many modular sofas can double as a guest bed, providing a practical solution when hosting overnight visitors. Some of Hybreeze's sectionals have integrated sleepers, ensuring the utmost comfort for your guests.
Transform Your Loft
Lofts often present a challenge with their unique architectural elements. The flexibility of modular sofas can be the solution to making the best use of these spaces. They can be arranged to fit around beams, under eaves, or along railings. Hybreeze's wide variety of modular sofas offers the flexibility to work within unconventional or difficult spaces.
The Hybreeze Advantage
Hybreeze's selection of modular sofas offers versatility, comfort, and aesthetic appeal that transcend the ordinary. Our sectional sofas are designed with meticulous attention to detail, ensuring they offer optimal flexibility to adapt to your needs, all while providing comfort and elevating the aesthetic appeal of your home.
Our range includes a variety of designs, from contemporary to classic, and a selection of materials to suit your individual needs and preferences. We guarantee high-quality construction and materials that are built to last, ensuring that a Hybreeze sectional sofa will be a stylish and comfortable fixture in your home for years to come.
Experience the Versatility of Hybreeze's Sectional Sofas
Explore the creative potential of your home with the versatile and stylish designs of Hybreeze's modular sofas. Each piece in our collection is designed to provide the ultimate combination of functionality, style, and comfort, giving you the freedom to reimagine your living space.
Whether you're setting up a new home or redefining an existing space, Hybreeze's sectional sofas can meet and exceed your expectations. Don't confine your creativity to the living room. Explore beyond the conventional and experience the innovative flexibility of modular sofas today. Transform your space with a Hybreeze sectional sofa – where style meets versatility.