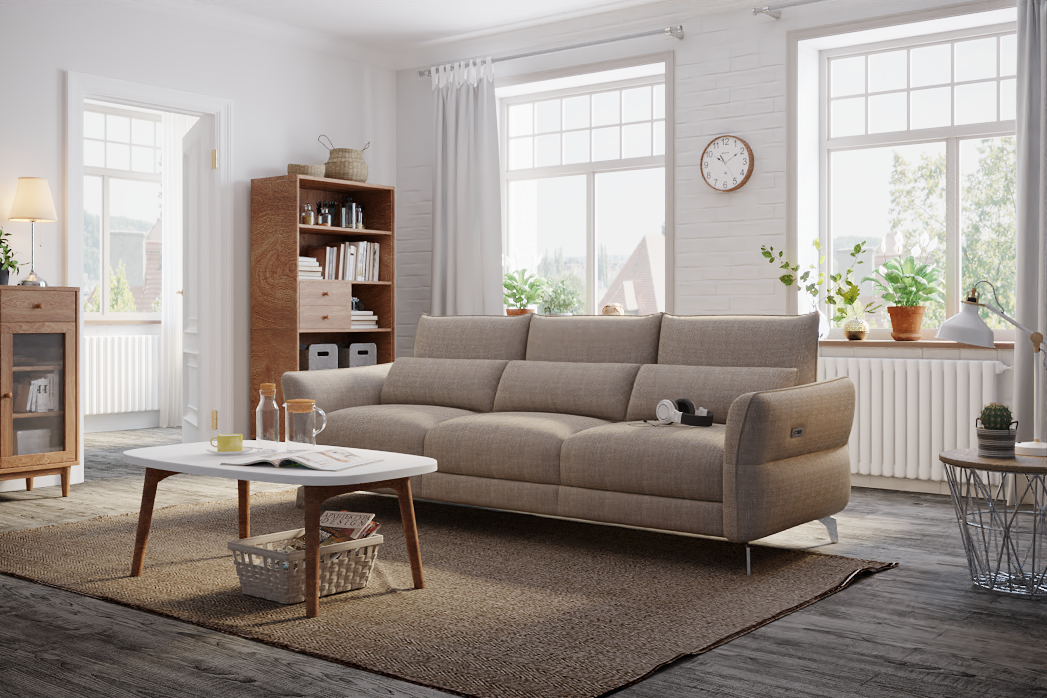 Breaking Down Our Different Types of Sofas
August 8, 2023
0 Comment(s)
At Hybreeze, we offer a lot of different types of seating. From couches to ottomans, sofas and beyond, there are just a lot of different options out there when it comes to quality seating. Each different seating variety is quite different, and even those that look similar can often offer quite a difference in form and function when it comes to the specifics.
So, let's take a look at a few of the different types of seating we offer, and what makes them absolutely fantastic.
Armchairs
When discussing comfortable, single-person seats, armchairs are absolutely what we are usually thinking of. As a beautifully comfortable, cushioned chair, the armchair gets its name from the distinctive arm support on each side. If you're someone who likes to lounge and luxuriate with armrests to settle into as you watch television or read a good book, an armchair is absolutely the go-to for you.
Whilst the armchair is typically a single-person chair by its nature, that doesn't mean they have to be small. Armchairs can be sizeable enough for you to climb into, or compact enough to fit as a cornerpiece in a small space. Regardless of your needs, if you're looking for a single-person chair that is going to make a statement, a high-quality armchair is the seating solution for you.
Two-Seater & Three-Seater Sofas
As the name suggests, two and three-seater sofas are defined by the number of seating cushions available, and in turn, how many people they can typically seat. Whilst not a specific type of sofa in and of themselves, our two and three-seater sofa ranges are a great opportunity to look at options based on size and requirements, rather than a specific style of seating.
Both two-seater and three-seater sofas are absolutely perfect for apartments and houses and are going to be excellent seating options for most decorators. So, if you have a pretty strong idea of what size of sofa you need, these two categories are sure not to disappoint.
Modular & Sectional Sofas
Unlike your traditional sofa, which tends to be one large piece covered in cushions, modular and sectional sofas take a more segmented approach to their structure. However, unlike the difference between two and three-seater sofas, modular sofas and sectional sofas actually have quite a bit of distinction between them. While modular sofas tend to be segmented and connected without tools (you can think of it like LEGO), sectional sofas are connected, despite their segmented design.
Modular and sectional sofas are beautiful staples of the modern living area for a reason, and that's the fact that they go with almost any aesthetic or interior design requirement. If you're trying to uplift the look of your living area, and you're not sure what couch to go for, a modular or sectional sofa from Hybreeze is a pretty fantastic first step.
Chesterfield Sofas
If you've ever pictured the luxurious leather sofa with its rolled arms and smooth, shiny design, you're picturing a Chesterfield Sofa. The peak of luxury in furniture design, the Chesterfield Sofa has absolutely earned its place as an old classic of status symbols. Few designs have lasted through the decades in the way that the Chesterfield Sofa has, and when you take a look at it yourself, it's not hard to see how it has maintained that longevity.
The Chesterfield Sofa comes in a number of styles, including plush fabric options that are as comfortable as they are stunning. So, whilst there is often a clear picture in the mind when Chesterfield Sofas are brought up, you may be surprised just how versatile the look is.
4+ Seater Sofas
Now we're getting to the really big sofas. If you have a large living space and like to entertain, the 4+ seater sofa range certainly lives up to the image that the name evokes. These beautiful, sprawling couches are peak comfort and class, taking everything that makes Hybreeze Furniture a respected, quality company and putting it on a larger scale. If you have the space for a large couch or sofa, then the 4+ seater sofa range is absolutely for you.
Sofas With Storage
With many people living in smaller homes, the topic of storage comes up a lot. After all, the less space you have, the more wisely you need to use it, and that's where having sofas with storage becomes such a valuable idea. Being able to store items within your sofa frees up so much space that you would otherwise not have, all while still receiving a quality, comfortable sofa. What's not to love?
~
With so many different options for quality sofas, it's no wonder that Hybreeze Furniture has become synonymous with variety and fantastic design. To learn more, stay up to date with the Hybreeze Furniture blog where we post more fun facts and helpful information every month.